"Steve's Catch" is on short episode from the animated series "Hi, I'm Steve". In this episode, Steve decides to go fishing and relax, what he did not expect was to find a Mermaid that will try everything to get his friendship. The movie is directed by Romualdo Amaral and produced by StudioX and Academy of Art University.
---
Official Poster - "Steve's Catch"
Artwork - "Steve's Catch"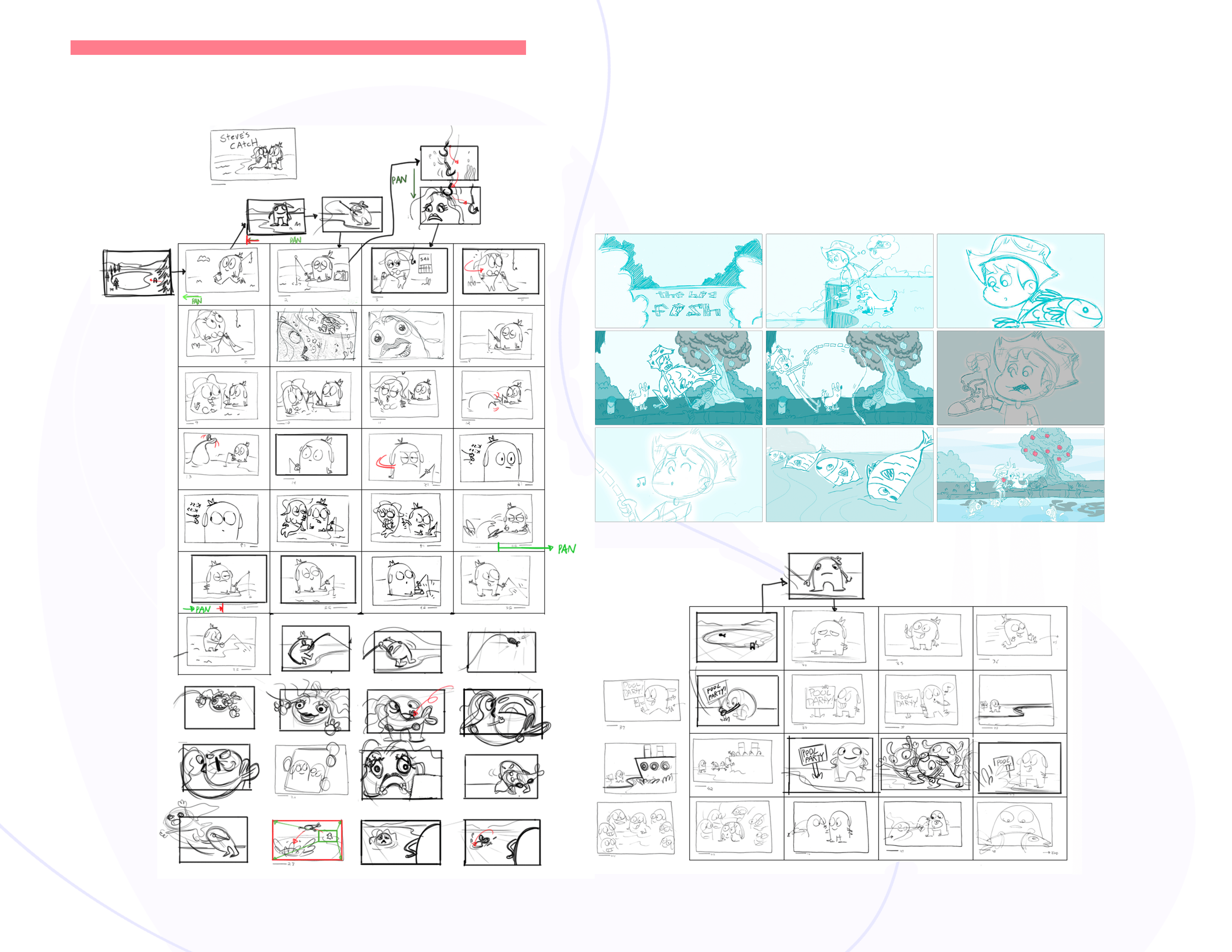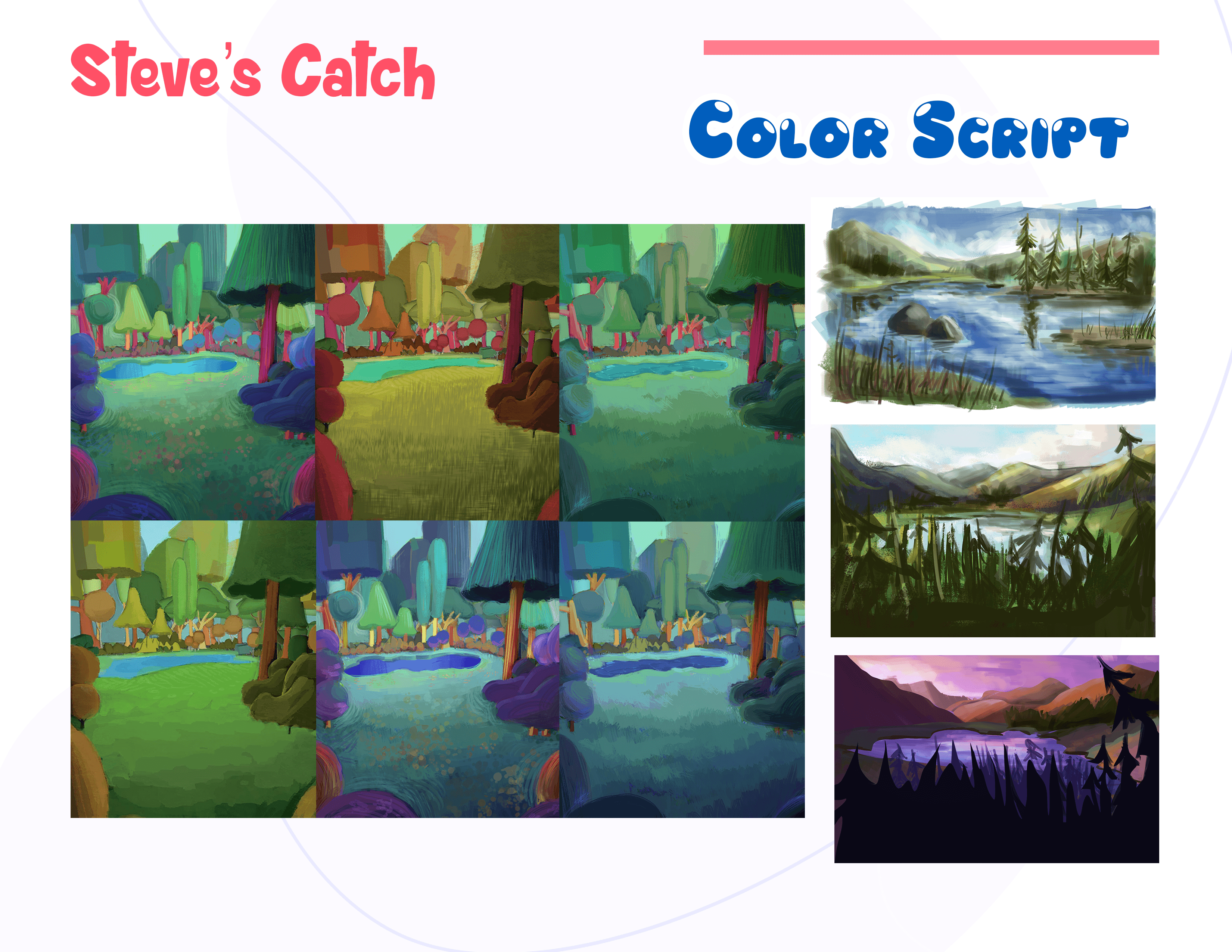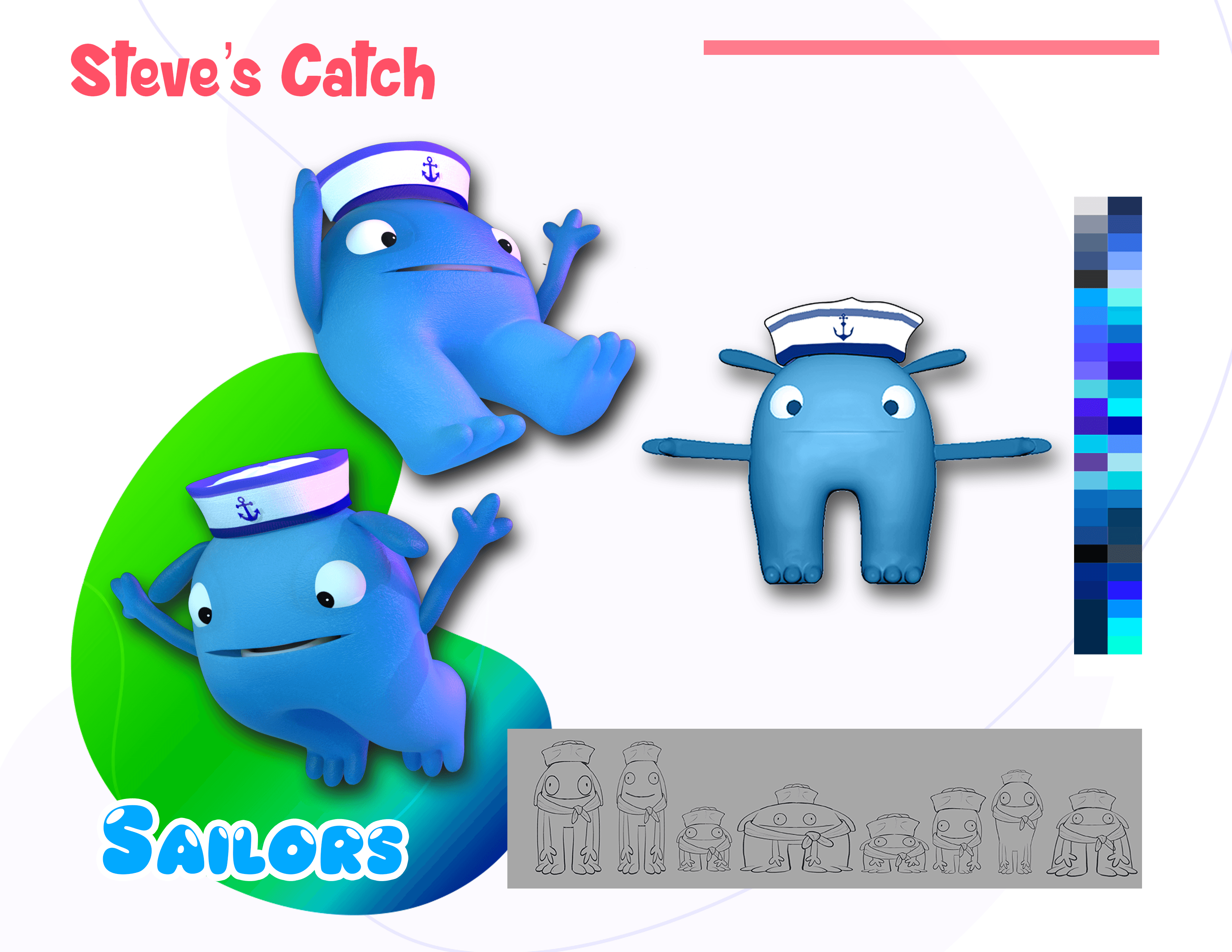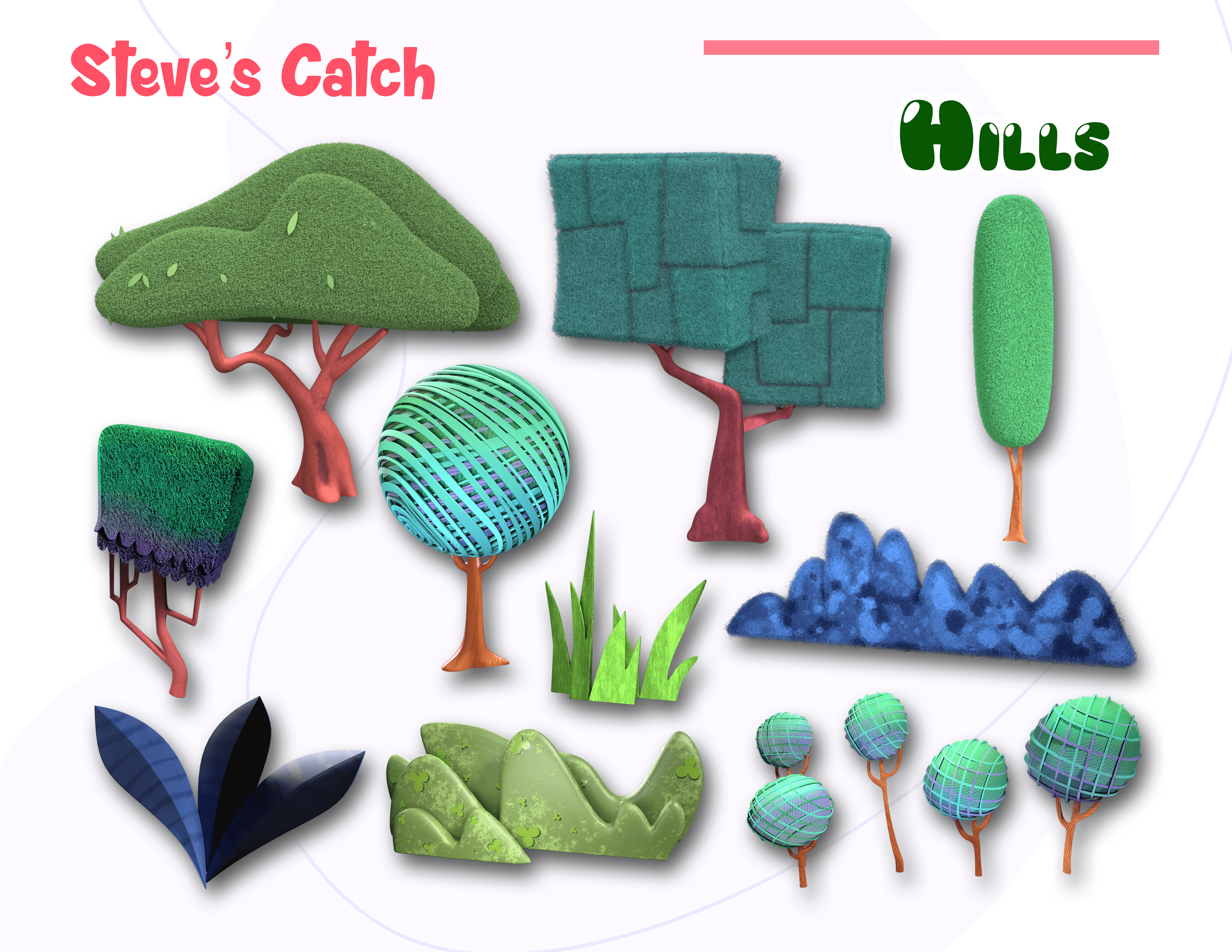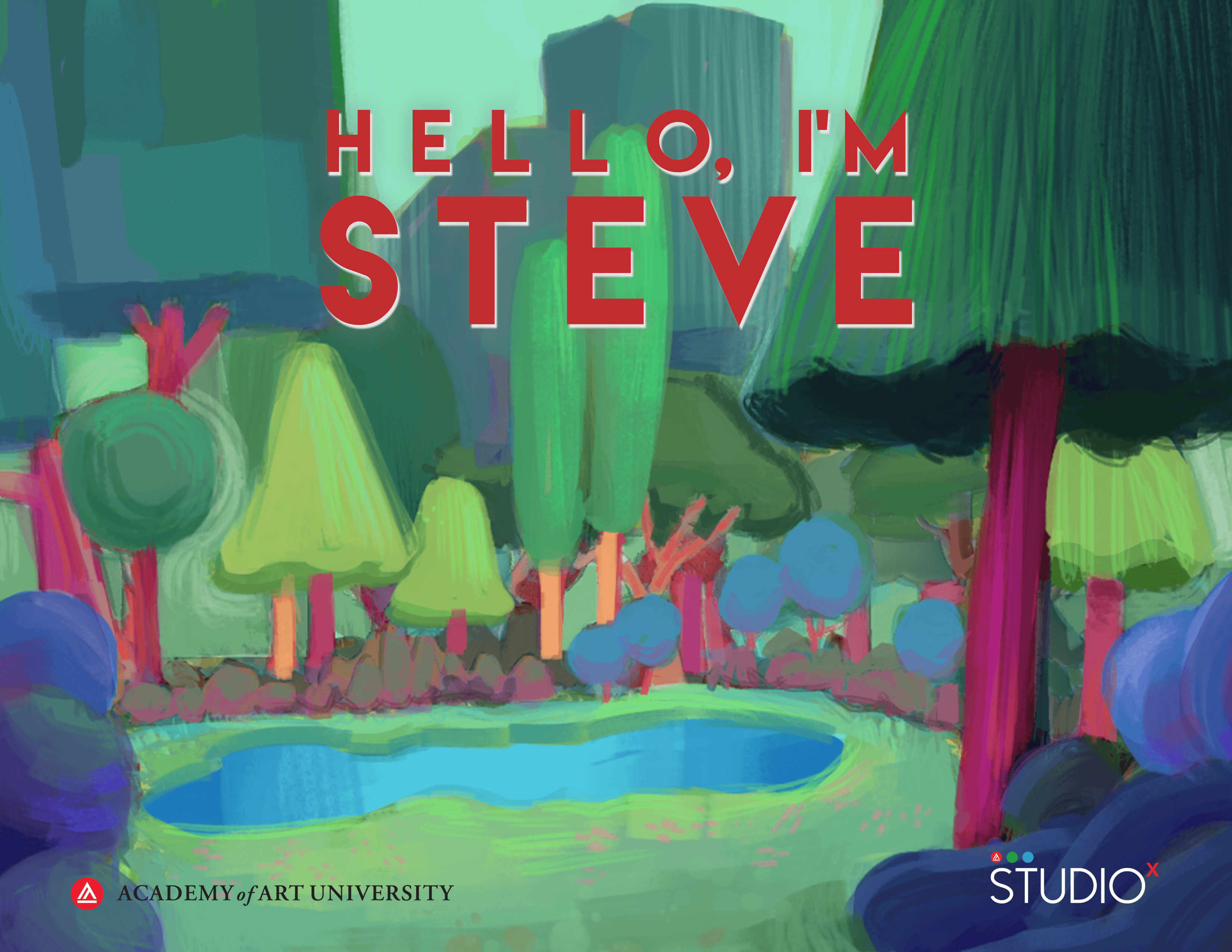 Testimonials Team - "Steve's Catch"

Austen Marr

Visual Development

"I enjoyed working on "Steve's Catch" very much. I had never done anything like it before, and I learned a ton throughout the process. I think my biggest challenge was solving problems I never had to before, like creating a layout for 3D modelers and creating matte paintings for the first time! I learned how important collaboration and communication is in creating something like Steve's Catch. Nobody is ever working on their own, and this project made that very clear to me!"

Ryan Arnanjaya

Rigger

"One of the most important lessons I learned from "Steve's Catch" is to listen carefully to the Director's visions. I learned that it is best to take notes when the Director is talking."

Kalina Murat

Visual Development

"I really enjoyed working on "Steve's Catch". I enjoyed my time on the project because you were always so on top of it and easy to work with. The Director clear vision always made it fun to explore designs and colors. Director's quick replies and clear communication made working on the project a smooth process. I feel that is rare among student run projects. My big challenge was working with extremely vibrant colors and helping find the overall color range for the project. I usually work with more subdued color, so it was initially a challenge for me. The process was a very valuable experience and reminded me why I love visual development so much. It was such a treat to see my designs and my peers' designs come to life. I don't often see my work transferred to the screen."

Ji Yoon Kim

Story Artist

"I loved working on "Steve's Catch"! It was fun to draw all these different scenarios concerning the mermaid and her sailors."

Isabella Martínez Luna

Modeler

"I really enjoyed working on "Steve's Catch", as it was the first time I got to model a character for a short film! It was definitely a challenge since I had to make sure the model was conveying the concept correctly. I learned a lot, especially working alongside concept artists and the director was my favorite thing!"

Erin Malloy

Visual Develoment

"I loved working on "Steve's Catch"! Even though I only helped towards the end, it felt so good to help out on a fun project with a fun storyline! I think the biggest challenge I faced was getting everything done on time. I wanted everything to look good and cared for, not just rushed to meet deadlines. It was a GOOD challenge for me though. If anything I learned the real importance of knowing how long it takes for you to finish something so you don't bring others down."

Joohee Cho

Animator

"It was my first time trying cartoony-style animation, and also non-human character animation. it is also my last semester, so it was a bit hard to manage time and schedule, but I am happy that I made it. Due to this, it was definitely a big challenge, but I enjoyed it a lot more! I was able to expand my boundaries of animation skills and style. Playing around with extreme squash and stretch was so much fun!"

Eunice Im

Texture Artist

"I learned a lot. First, I understood the pipeline, and then I learned to communicate with my colleagues. The hard part was to clean up someone else's work as well. It sounds simple, but it's a little tricky to figure it out because people have different workflow and style. And I think it was a bit difficult to get a concept on the first pass. I often thought I needed more reference images. But your feedback was fast and clear, then there was no big difficulty in the process."

PoKuan Wu

Dynamics FX

"I pretty enjoyed my first project with animated film. Built a solver works for different shots is fun."

Romualdo Amaral

Director and Animator

"So glad and happy to see a lot of amazing talents to make "Steve's Catch" happen! Work in this project was a really big challenge for me. I learned a lot about the pipeline to make an animation movie and manager all the process. As Director my biggest challenge was work with different styles of people and follow the timeline. As Animator, understand the controls of the Rig and how a cartoon character acting in the screen was little difficult, but with the feedback from the instructors, I could made my shot being interesting and make the audience be interest to see more about Steve."

Ron Marelli

Producer

"Working on "Steve's Catch" has been challenging but extremely rewarding. While my major is VFX Compositing, I have had the privilege to serve this project as a Producer. This has give. Me the ability to see the project through from Pre-Production to its current state and will continue to see it through Post-Production to Final Delivery. The biggest challenge has been getting a skilled crew together when sometimes resources are limited and deadlines are short. But we have pulled it off! I think the biggest learn for me from a production management standpoint is to always fall on the side of the show. Regardless of all else, the show is what matters most."

Tama Soeroso

Producer

"Im so glad that i got this amazing experience to contribute and work in "Steve's Catch" episode. As a Producer, I learned so much throughout the entire production stage. Working with this team has helped me improved not only as a producer but also as an individual. I totally enjoy the prosses. The biggest challenge comes when the sources are limited with a short deadline. It pushes the production team to manage the artist by overseeing each of their tasks and assure their work to meet the deadline."

Chanwoo Choi

Texture/Lighting and Compositor Artist

"I like the work with "Steve's Catch" project. it is lovely colorful project. My big challenge of this project is fixing the technique issues. I learned a lot of different problem's types and more understand programming and work flow."

Zhaoyi Zhang

Sound FX Artist

"The "Steve's Catch" is a very decent project and I feel really happy to work with all of you. The big challenge is that I need to learn to communicate with the team which is not like my own work, I have to know what director and other team member's willing. What I learn is teamwork."

Henry S.

Animator

"I truly loved being apart of the "Steve's Catch" team, the style of animation is unique but also reminds me of the classic Warner Brothers slapstick that modern animation was built from. It was a challenge to create movement with Steve's Jello-like physics, but this was a major learning point for me. Working on this project taught me how to better bring out exaggeration, overshoots, and appeal in my characters."

Ryan Lee

Animator

"Steve was fun to work on. I really enjoyed the clear style and personality of the show. Biggest challenge for me was adjusting to the new work ethic necessary for a studio. I never really had any problems with the production itself, everything always seemed to be going great. I learned that I can actually work in the conditions of a studio and not be instantly fired."

Nate Tedesco

Score Artist

"Working on "Steve's Catch" has been a great pleasure of mine. The biggest challenge for me was trying to see the story and the music how you envisioned it. Through this challenge I learned how to communicate with the director and others working on the project about the vision of the story."